It's getting increasingly difficult for Democrats to deny some very shady things were going on during the Obama years.
It also appears that at least some of those corrupt government officials involved will have to pay a price.
A hard rain is about to fall…
image: https://ichef.bbci.co.uk/news/660/cpsprodpb/11766/production/_102662517_untiaf33ahtled-1.jpg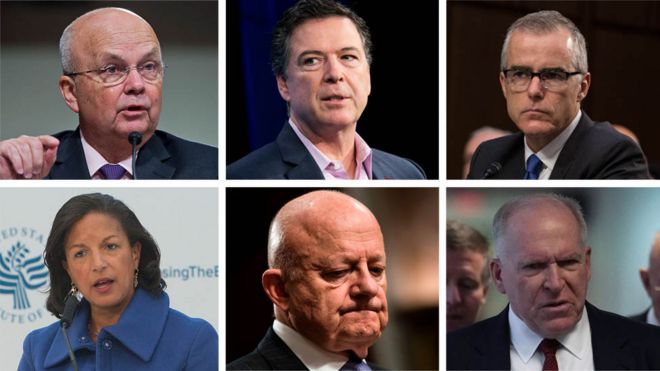 Via Real Clear Politics:
The skies are growing dark and increasingly ominous for dirty officials at the top of Obama-era law enforcement and intelligence agencies. Leading the "I'm really worried" list are James Comey, John Brennan, James Clapper, Loretta Lynch, and their senior aides, all political appointees. They expected Hillary Clinton to win in 2016 and bury any traces of malfeasance, just as they had buried hers. It didn't work out that way.
Now they need protection themselves. House Democrats and anonymous leakers are busy providing it. Many are delicately called "current and former senior officials" by the New York Times, Washington Post, and other legacy media. Gee, I wonder who they are?
…Over the next few months, the public will finally see what kind of malfeasance there was. At least they will see some of it. Some will remain classified to protect sources and methods; some will be released only after criminal charges are filed. The initial evidence will come from two sources: a major report by DoJ Inspector General Michael Horowitz, and the steady declassification of underlying documents by AG Barr, who was given that task by the president. Barr needed that authority because the FBI and intelligence community are resisting disclosure with all their institutional power. They fear years of abuse will be exposed.
Horowitz, a highly regarded career prosecutor, initially appointed by President Obama, will issue a public report and is virtually certain to make criminal referrals. The referrals will then be handled by John Durham, a skilled, apolitical U.S. attorney, who has successfully prosecuted major corruption cases for AGs in both parties. Apparently, he has already convened a grand jury. Another federal prosecutor, John Huber, has been working on related problems. Durham will coordinate, supervised by Barr.
These joint efforts will show whether there were good legal reasons to spy on Americans, whether the secret intelligence courts were given complete and honest information before they issued search warrants, whether top officials leaked secret information to the media, and whether U.S. intelligence agencies (which cannot legally spy on Americans) evaded that restriction. They may also show if outside contractors illegally tapped into classified databases and spied on American citizens, including political opponents.
image: https://m.theepochtimes.com/assets/uploads/2018/10/12/Clinton-Obama-Brennan-Clapper-EPOCH-TIMES-SPYGATE-550×330.jpg
These are very serious charges, and, if proven, serious crimes. What makes them worse — far worse — is that they may well be connected to each other. If they are, they would represent a high-level conspiracy by government officials, appointed by one party and directed at political opponents during and after an election.
This assault on democracy has not been proven, but the evidence emerging in dribs and drabs strongly suggests the possibility.
If it is proven, and if the Obama White House was directly involved, as some FBI texts plainly say, the scandal would be one of the biggest in American history.
---
Read more at http://dcwhispers.com/report-a-hard-rain-is-about-to-fall-on-shockingly-corrupt-obama-era-intelligence-officials/#iDOzM4ROAegZcl8s.99