Remember that famous presidential debate line by then-candidate Donald Trump when he told Hillary Clinton if he had been in charge during the investigation into her private email server (among other things) that she'd "be in jail"? Well, a breaking report out this week provides some serious substance to the presidential debate boast.
If not for the (improper) protection/intervention of the Obama DOJ, Hillary Clinton would very likely be in jail by now. 
image: https://media1.tenor.com/images/f860c7b976335f47ab8cbcc9af8615a8/tenor.gif?itemid=6155615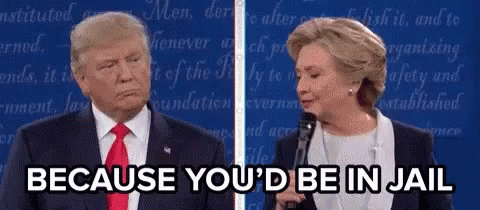 Via FOX NEWS:
Lisa Page admitted Obama DOJ ordered stand-down on Clinton email prosecution, GOP rep says
Former FBI lawyer Lisa Page admitted under questioning from Texas Republican Rep. John Ratcliffe last summer that "the FBI was ordered by the Obama DOJ not to consider charging Hillary Clinton for gross negligence in the handling of classified information," the congressman alleged in a social media post late Tuesday, citing a newly unearthed transcript of Page's closed-door testimony.
Page and since-fired FBI Special Agent Peter Strzok, who were romantically involved, exchanged numerous anti-Trump text messages in the lead-up to the 2016 presidential election, and Republicans have long accused the bureau of political bias. But Page's testimony was perhaps the most salient evidence yet that the Justice Department improperly interfered with the FBI's supposedly independent conclusions on Clinton's criminal culpability, Ratcliffe alleged.
…Responding to the transcript revelations, Trump on Wednesday tweeted: "The just revealed FBI Agent Lisa Page transcripts make the Obama Justice Department look exactly like it was, a broken and corrupt machine. Hopefully, justice will finally be served. Much more to come!"
Federal law states that "gross negligence" in handling the nation's intelligence can be punished criminally with prison time or fines, and there is no requirement that defendants act intentionally or recklessly.
Originally Comey accused the former secretary of state of being "grossly negligent" in handling classified information in a draft dated May 2, 2016, but that was modified to claim that Clinton had merely been "extremely careless" in a draft dated June 10, 2016.
———————
So, in summary, the Deep State shielded Hillary Clinton from justice while orchestrating a still-ongoing hoax of investigations against President Trump.
That isn't democracy. That's centralized, authorititive, and overtly abusive power that continues to attempt a coup of a duly elected President of the United States.
It's going to be very interesting to see how the Trump administration responds as well as his tens of millions of supporters.
Read more at http://dcwhispers.com/report-hillary-clinton-would-be-in-jail-today-if-obama-doj-hadnt-ordered-stand-down-on-investigations/#d9el1fL8zagt7loq.99